Where can you get our FUCK CANCER top hat?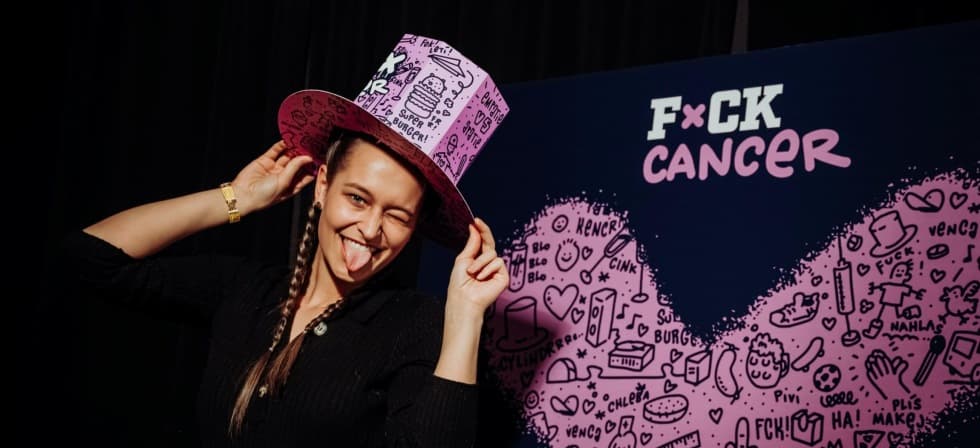 The lavender top hat is the symbol of the entire FUCK CANCER campaign!
You too can become our Soldier and help spread the message of the FUCK CANCER campaign and support those who have been affected by this insidious disease.
Let's flood the Czech Republic with lavender top hats that carry the message of awareness and prevention of cancer. Thanks to this symbol, you can also help the patients themselves.
Find your nearest meeting point and pick up a lavender top hat that you can easily assemble without scissors and glue. Once you put it on your head, wherever you are, everyone will know you're a Soldier standing with all the Heroes who pulled that Black Peter.
Outlets for our lavender top hats:
Hlavní město Praha
Vnitroblok – Tusarova 31, 17000 Praha 7 - NO LONGER AVAILABLE
Jihomoravský kraj
Iva Decor - Tišnovská 270, Kuřim 664 34
Monogram - Kapucínské náměstí 310/12, Brno, 602 00
Ježek u cesty - 1. Máje 116, Zastávka, 664 84
Na poličce - nám. T.G.Masaryka 41, Moravský Krumlov, 672 01
FIT 4 FUN - Nám. Míru 1705, Tišnov, 666 01
Kraj Vysočina
Úl bar – Havlíčkovo nám. 87/87, 58001 Havlíčkův Brod - NO LONGER AVAILABLE
Olomoucký kraj
Fairly local - Sokolská 22, 77900 Olomouc
Tomivo gelato - Ztracená 326, 77900 Olomouc
Berry Blue - Třída Svobody 639/20, 77900 Olomouc
Jak chceš fresh bar - Tř. Svobody 411/27 Olomouc, 77900 Olomouc
American grill - Tř. Kosmonautů 981/21, 77900 Olomouc
Dětská galerie - I.P. Pavlova 185/6, 77900 Olomouc
Cà Phê District - Uhelná 11, 77900 Olomouc
Miss Sophie's - Denisova 33, 77900 Olomouc - NO LONGER AVAILABLE
Long Story Short Hostel & Café - Koželužská 945/31, 77900 Olomouc - NO LONGER AVAILABLE
La Donuteria - Ostružnická 27, 77900 Olomouc
EUC Mamocentrum - Na Šibeníku 914/1, 77900 Olomouc - NO LONGER AVAILABLE
Pardubický kraj
Caffetteria – třída Míru 450, 530 02 Pardubice
Plzeňský kraj
Peeters pub - Poděbradova 302, 34401 Domažlice
VŠ klub Ucho - Bolevecká 30-32, 301 00 Plzeň 1 - NO LONGER AVAILABLE
Středočeský kraj
Pizza na Královský - Královská cesta 472, 280 02 Kolín - NO LONGER AVAILABLE
Restaurace Siňorita - Chvalovická 1076, 28911Pečky - NO LONGER AVAILABLE
Zahradnictví ROSTA, 282 01 Český Brod - NO LONGER AVAILABLE
Obchod ovoce a zelenina, Náměstí Smiřických 36, Kostelec nad Černými Lesy - JIŽ NEMAJÍ
Pražírna kávy LONGBERRY - Předmostí 825, Lobeček 278 01 - Kralupy nad Vltavou
CBD my medicine - I. Olbrachta 80, 272 01 Kladno - NO LONGER AVAILABLE
Jihočeská kraj
Obchůdek u Barborky - Poštovní 119, 383 01 Prachatice
Pizzaservis český krumlov - Po Vodě 282, 382 01 Český Krumlov
Portus Prachatice - Velké náměstí 14, 383 01 Prachatice
Ústecký kraj
Bohemian Coffee House - Tř. 9. května 41, 408 01 Rumburk