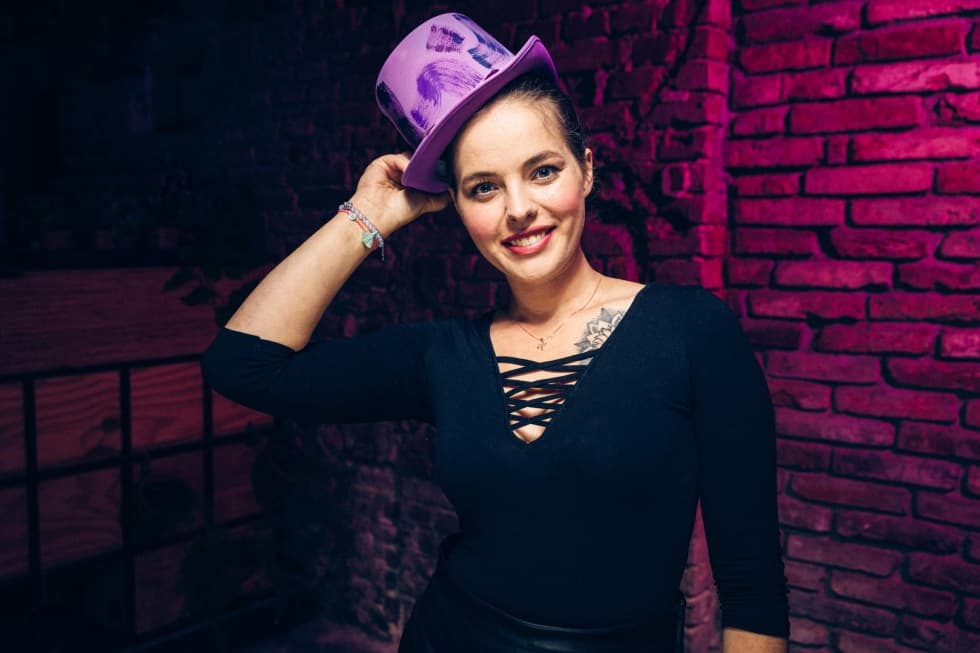 Cancer patient and ambassador of the Fuck Cancer project for the Central Bohemia Region
"For some people it would have been a shock, but I was happy to finally have a diagnosis and to see something start to happen after 2 years of suffering. I was diagnosed with stage IV Hodgkin's lymphatic cancer at the age of 21."
1) What appealed to you about the FUCK CANCER project and why are you putting your energy into it?
FUCK CANCER appealed to me because of the community behind it. I like a project that is aimed at us young people. I like the opportunities that it will give us over time, for example, in finding a job. I put my energy into it because I went through cancer treatment, so I want to spread awareness.
2) What does the term FUCK CANCER mean or express to you?
That we're all gonna win this fight.
3) Can you imagine who you are fighting for here as a "SOLDIER"?
For everyone who has faced cancer, for parents, friends. And most of all, for myself.
4) What would you say to someone who says they find the phrase "FUCK CANCER" vulgar?
I wouldn't say anything and just smile.
The story of Kája
My story began when I was 19 years old. Already in those years I began to notice some health ailments on myself. I was often sick, my feet swelled, I had skin rashes, I was often tired and had a cough that always lasted for x months and then disappeared again. Even then I started to visit my district doctor with my health problems. I was always given antibiotics and sent home. That's kind of how I survived. I got some vitamins here and there to boost my immunity. It was always just a delay before the symptoms came back. Eventually I also left my job, which was physically demanding, and found a quieter place in the office. Unfortunately, even that didn't help and my health didn't improve and I was often at home. When I was at work, it happened that I fell asleep at the computer even twice during working hours. The atmosphere in the workplace was getting thicker and I felt that I was being treated like a hypochondriac who was just making excuses. In retrospect, I would describe it as bordering on psychological bullying. Eventually I left the job and looked for another way. I started a retraining course in massage and believed it would get better.
Another series of examinations were carried out, which again came up with nothing. Even the lump on my neck, which the doctor found, was not evaluated as problematic and I was recommended to see a psychiatrist, because in the eyes of my doctor I had created my own medical conditions in my head and I needed to cure my head. I was desperate, but I was not losing hope in a way out of this vicious cycle. Through massage, I learned to feel my body better, and in time I felt another lump in my neck. This prompted me to change doctors as I had lost trust in my current one. That was the step that saved me. I found a new doctor who made me feel comfortable and understood. She didn't take my problems lightly and advised me to go to the emergency room if I had any problems over the weekend. And I did. However, here at the hospital I also encountered an unpleasant attitude from some of the staff and I still didn't understand why they didn't have a shred of feeling and empathy. After a series of examinations and a month of waiting, the denouement came. The doctor gently approached me and told me, "I'm so sorry, but it's cancer." It might have come as a shock to some, but I was glad to finally have a diagnosis and something would start to happen after 2 years of suffering. At 21 years old, I was diagnosed with stage IV Hodgkin's lymphatic cancer. My mediastinum, neck and skeleton were all affected.
I was sent to the Hospital Hospital Královské Vinohrady to haematology, where they started to treat me. Before I started my first chemotherapy, one of the dearest people in my life, my partner's dad, passed away suddenly. I remember sitting in the chair, my first chemotherapy dripping into my vein, and I feel endless fear, sadness, hopelessness, but I also know that I have to be strong. The emotions I was experiencing were like a roller coaster. When I was having a hard time physically, I was also having a hard time mentally. It got to the point where I was put on antidepressants, but they made me feel even worse and I eventually had to come off them. That's when my partner and I separated. It was a difficult time for both of us, but eventually after a few months our paths came back together and I'm so glad for that. Even my friends have come clean. Most wrote just out of curiosity, but hardly anyone stayed. I was glad for it in the end, the solitude was better for me and it didn't make me feel good to see my surroundings suffer with me. I had my faithful dog though, who gave me as much empathy as anyone. He was my great support and recognized exactly what I needed. When I finally finished treatment, I was overwhelmed with happiness. The feeling is indescribable. I wanted to catch up on everything I had missed and be happy. That is, until the big check-up came and I went in already knowing that I must have sensed something was wrong. "I'm so sorry. You have an early relapse of the disease, we need to start further treatment." I didn't cringe, I took it proudly. This treatment was different, I was going to have high-dose chemotherapy with a stem cell transplant, followed by a year of biological chemotherapy. By the time the stem cell transplant happened and I cried for a full 25 days in the hospital, I had hit a real low. It was a low from which I managed to bounce back and thanks to psychotherapy I can say that I have undergone a great transformation of myself. Today I feel stronger than ever. When I finally finished the last chemotherapy, everything indicated that the cancer was gone. For the first time in a long time, I cried with happiness that it was finally over. I was proud of myself for making it through, for being so strong! And so I slowly came back to reality again, started to catch up with "life". I went to a concert after a few years, went to the cinema. I can't tell you how grateful I was for that. For some people it's a common thing and for me it's a thing to appreciate and be grateful that I can realize it.
I would like to conclude by saying that I am healthy and determined to live. The latter is 100% true, but with health it is unfortunately not so clear. My illness has started to rear its ugly head again and I'm going into my third fight for health. I am determined as never before, full of hope and faith that I will make it and win my fight for life.