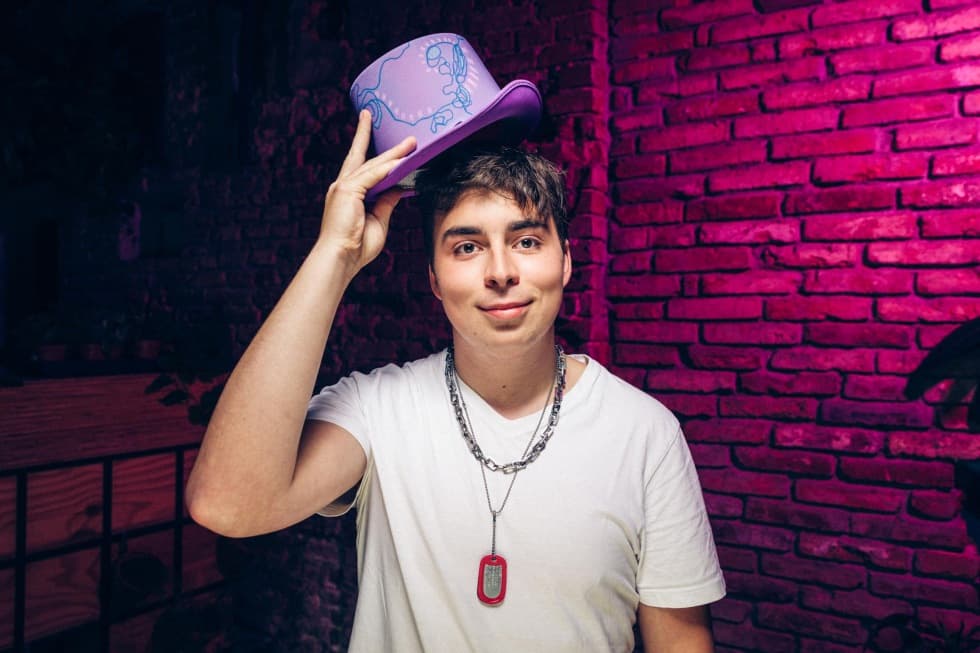 Former cancer patient, author of the Fuck Cancer anthem and ambassador of the Fuck Cancer project for the Central Bohemia Region
"I had heard about such a nasty disease from my grandmother, because my grandfather died of cancer, but until then I thought only old people had such a disease."
1) What appealed to you about the FUCK CANCER project and why are you putting your energy into it?
It appealed to me because there are very nice and helpful people in this community who like to help others and I'm putting some energy into it because I want to show that cancer is a bitch, but it will show you a new direction in life and a lot of other good things.
2) What does the term FUCK CANCER mean or express to you?
The term for me means that if cancer gets in my way, I just tell myself - I don't give a FUCK CANCER and I go fight!
3) Can you imagine who you are fighting for here as a "SOLDIER"?
I fight for all those who have gone through it, whether with a good ending or a bad one, and also for all those who may still have to go through it.
4) What would you say to someone who says they find the phrase "FUCK CANCER" vulgar?
He's taking people's lives, and the killer isn't being treated nicely either.
The story of Sebík
That's kind of how it started, I was 11 years old and starting sixth grade. I started drinking more than usual. I can still remember going to the playground with my brother to get stoned. My mom gave us a big water bottle and I drank almost all of it by myself. I started getting headaches more often. That's what kids say, "you don't drink enough," but I did. I came down with a little flu and a fever, and my parents didn't like a lot of things anymore. The doctor's verdict was all the more striking. What about me? I just wanted my head to stop hurting. "Two brain tumors" was the first thing my mom heard. While I was wrapped in a white coat, sitting on the bed in this glass room. The nurses were very nice and so was the doctor. Everything was going very fast already. The next day we went by ambulance to Motol Hospital. It was quite nice in the ambulance. I still remember singing a song by my favourite artist to my mother in the ambulance. She looked quite scared, I didn't understand why. I didn't realize anything. We came to a beautiful children's pavilion. Lots of pictures, colors and games everywhere. I felt good there, but despite that, every day I asked when we were going home. I met children, both younger and older, and there was something "wrong" with them. Then came the first operation, during which they put a reservoir in my head, but I call it a "plug". I was joking with the doctor while I was getting the stitches out, and it tickled. Just remembering how scared I was when the blood was drawn. It always hurt and the blood wouldn't flow. I even counted once and before they could draw blood, they had to prick me sixteen times in different places on my right and left arm. Since then, it's been a piece of cake for me and the blood has been flowing like crazy. On the ward I met Kubíček, Eliška and many other children. Each one of them had something in them and I could feel the fighting spirit from them. We were all in the same boat and each of us was such a little angel.
You may be asking how I was able to manage school. Pfff... Let me put it this way. I just had the best class teacher I could have asked for. A lot of kids at school were scared of her, respected her, including me, and that was until I got to know her better. She could be quite strict, but most importantly, she had her heart in the right place. When she found out from my parents what was wrong with me, she started coming to the hospital to see me. Every time she brought me a bag full of fruit, something good to eat and most importantly a full load of studying, which I didn't blame her for because thanks to her efforts I passed sixth grade even though I didn't go to school. I am so very grateful for what she did for me. After two months in that ward, I still didn't know what was wrong with me and thought we were going home any minute. Of course my parents already knew this from the doctors, but they didn't want to burden me unnecessarily. Suddenly, my mom came in saying that we were moving to another ward. At this point, my parents had no choice but to tell me what was wrong with me because the first treatment was about to start in the new ward, which was chemotherapy. "Cancer, it doesn't make sense to me" I had heard about such a bad disease from my grandmother, because my grandfather died of cancer, but until then I thought that only old people had such a disease. At that point, of course, I was refuted, but I still didn't know what it all entailed. So, moving to oncology. By then I could see more of my mom's tears, even though she tried to hide them. It was darker, fewer pictures, lower ceilings, weird old heating. Why here? No.... In short, I didn't like it so much here.
Time went on and the not so nice environment was made up for by the nice nurses, doctors and especially the hospital clowns who came to see us and always put a smile on my face. Even the hockey players came to see us and we got lots of presents. Now the chemotherapy has started, really bad shit. I was weak, I wanted to vomit all the time and I had to urinate lying on the bed because I was connected with tubes. I watched for the damn bag of fluid to finish. And when he finished, I got another one. It was like that all over again. By the time I was done with the procedure, they'd put a port in my chest so they wouldn't keep poking the vein. By this point, my hair was falling out. That's why my dad had the idea that me, my brother Kristian and my dad would shave ourselves completely bald with a razor. That was a blast, we have a picture of the three of us together with our heads bare. Great mental support from Dad. I had visitors. Dad and all my family and friends. They always tried to bring me a treat or a gift. I can confirm with a clear conscience that I was pretty spoiled at that point. It was such a psychological support from my family. My mom was with me in the hospital the whole time, but she had to go to the hostel to sleep. Time moved on and the first, second, third and fourth chemotherapy sessions took place. Even at that time I wore a veil to make sure no germs got into me because I was hugely immunocompromised. Today, it affects all of us, not just people who are immunocompromised, who knew. After chemotherapy came radiotherapy, or radiation, which I went to every weekday for a month with my dad. That was easy, nothing hurt, I just put on the helmet they made me, lay down on the gurney and waited 15 minutes for the lasers to irradiate me. I have to admit, I always fell asleep during that, as I say.... cool. This was the last phase of my treatment. As a gift I took away a couple of scars from it all, which of course I'm now flaunting, as well as the Minirin Melt. It's a friend I can't live without. My hair has grown back, my immunity has strengthened and I've put on a few more pounds. Today I am 18 years old and I can do what I enjoy, exercise, search with a metal detector and many other things. It has all gone by so fast since the illness. I'm graduating this year and I still have my whole life ahead of me. Today I'm trying to be a Fuck Cancer, be a cool kid and help people. Thinking about my future and living. And I'm giving that bitch the middle finger.
Sebik is also the author of the anthem "Rakovina" for FUCK CANCER