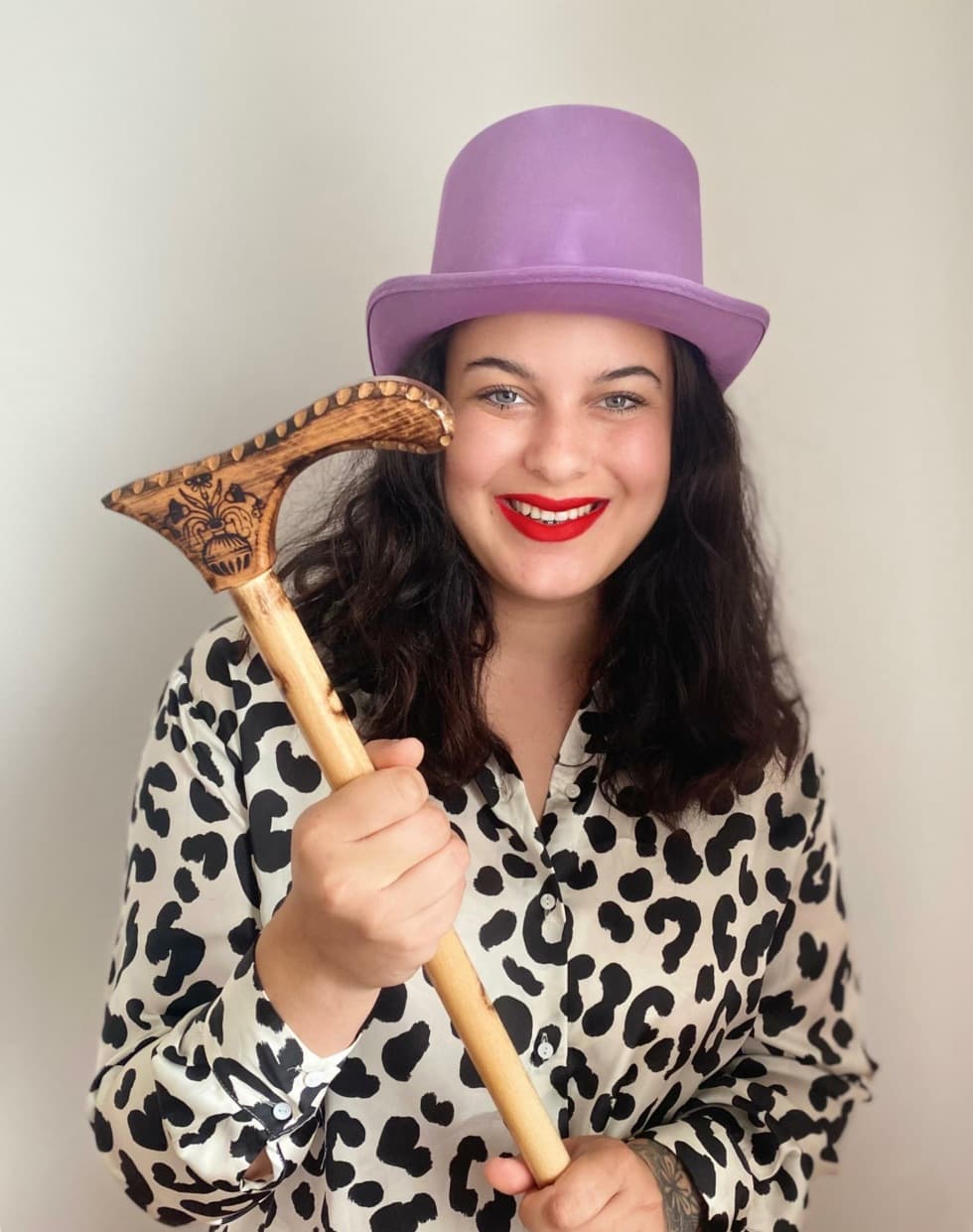 Hero and founder of the Lajkni duši project
"Cancer has taken a lot from me, but I feel my strength now more than ever."
Even a Hero can be a Soldier.What does that actually mean? Can a person who has been through a lot in life, both physically and mentally, find the strength to continue helping despite his or her health limitations?
Yes!
We bring you the story of a young Kristina Korcinová, who, despite life's obstacles and difficult fate, decided to help where it is needed. It was not chance that brought us together, but empathy. Empathy that can do great things.
And what did she write about herself?
The FUCK CANCER project appealed to me immediately when my doctor, Mudr. Viera Bajčiová, CSc., enthusiastically told me about it.
I knew right away that I wanted to join. I myself went through cancer at the age of thirteen. Specifically, it was a chondrosarcoma in the femur that wanted to metastasize to the lungs. Fortunately, immunity intervened and destroyed the germs in my lungs, but I underwent a challenging surgery where I was given a donor bone. When I found out I had bone cancer, I was absolutely devastated because I was playing eight sports at the time, most of them competitively. It was calculated that I would go to a sports-oriented high school and that would be my future career. However, I also gained from what I went through as I discovered my tremendous passion and love for the arts, which has been a great support and joy in my life. However, I found out about my illness completely by accident when I didn't feel like writing my midterm for my elementary school Czech language class one day. I have to smile at the memory today :-). I told myself that my foot has been aching for a long time, as if I had a stone in my bone, just like we all have in our shoes sometimes. (And it really was.) So, I went to the district doctor with the idea that she would stamp my excuse slip and I would play my favorite game on the computer for the rest of the day. But I didn't come home that day. For months, actually. Ironically, I loved it at the hospital. The nurses and doctors at the FNUSA in Brno were very nice to me, even playing ball with me and bringing me popsicles, or one doctor reading me Harry Potter in the ICU every day before I fell asleep. In return, I made beaded animals for everyone's business cards and they still wear them... and it's been so many years. It still touches me.
The term FUCK CANCER is resonant and punchy for me. I don't have a problem with the first word either, but I do have a problem with the second. Cancer really doesn't spare us. We shouldn't spare it! We are fighters who don't give up. I would like to pass on this message to all those who are currently undergoing treatment, who are fighting. - Don't give up! FUCK CANCER and a tremendous amount of other people are standing with you. You are amazingly strong and you are not alone. I will always fight for you. And for all fighters, whether with terminal cancer or any other disease.
FUCK CANCER doesn't strike me as a loose term. It's cancer that's vulgar. Cancer is no oasis, it really is a disease that absolutely spares us. I speak from the position of one who has experienced it first hand. I have encountered opinions that cancer is a healing process for the body, or that it should be treated with gratitude and love. I understand these views, I really do. But that's how sick people should be treated, with care and deep love. When it comes to cancer, it takes a fierce attack and defense. This is my personal experience.
Fortunately, after my oncology treatment I "only" have a limp and therefore most of the time I literally need a crutch :-). I got the wooden one in the picture from my wife and I really like it. But the more serious consequence has been feeling isolated from society/group for many years. I missed out on many events and school because of my treatment and couldn't do what my friends/ classmates did back then. I was pretty sorry about that for a long time.
Fortunately, that has subsided. Although I have acquired a disease of the Soul - schizophrenia, but I am definitely not falling apart. Together with Peja and Marsy I have founded a patient organization called LAJKNI DUŠI, which will help FIGHTERS & WARRIORS with mental illness in the age group 14-65 years in a way that is unprecedented in the Czech Republic. The idea to start LAJKNI DUŠI came to my mind thanks to the wonderful Pink Bubble Foundation who granted my wish, which hit me in an incredible way. I believe that with the help of good people we will be able to get our project off the ground. These days we are trying to raise money on Donio for our launch.
To all FIGHTERS, whatever ailment they may have, I would like to say: Be kind. To the warriors, but also to yourselves. It's a struggle, I know, enjoy every moment of joy and nurture it within yourself. I wish you and I firmly believe that there will be more and more of those joys soon. Be there for the warriors - and for yourself. Thank you for being here.
Thank you to everyone who read my story.
-----------------------------------
If you've read this far, you know that Kristina's story has a happy ending. Her cancer no longer threatens her life and despite the health limitations and subsequent diagnoses that have come and often not easy, she has an incredible strength to live and help at the same time. She is involved in the Fuck Cancer project and is currently building a legacy of helping warriors and warriors with mental illness, where a fundraiser is running these days for - Donio - Lajkni Duši